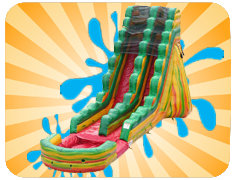 Water Slide
Beat the heat with our 19 Foot Water Slide! This colorful slide will be the hit of your summer party!

This slide can be rented as a dry slide. See our Slide page for information on renting as a dry slide.

Base price is for a rental period up to 4 hours in length. Additional hours can be added at $30.00 per hour. Delivery is free within 15 miles of our location, each way. Each additional mile is 75 cents a mile each way.
Our slide is 19 Feet tall by 15 feet wide, by 36 feet deep. Children must be at least 2 years of age to play on inflatables.
As a water slide the set up surface must be grass! We do not set up on pavement due to safety issues! A set up area of 20 feet wide by 42 feet deep by 20 feet high is required. A regular 15 amp circuit is equired with nothing else running on it. Normally, your back yard outlet will work fine! The slide must be plugged into the power source at all times during operation. For instances where power is not available, we have generators available for rental.
Park & Street Set up: Set up in a park requires permission from the park. A copy of the permit that shows approval of the water slide needs to be provided at the time of reservation.