Bazooka Ball Shootout
Description
Test your shooting skills at an old fashioned shoot out as you shoot out the teeth of our friendly cowboys. Two players compete to see who can know down the most teeth.
We now offer two options for shooting the Bazooka Balls. Choose from either a Bazooka Ball Sling Shot or a paintball type gun with high pressured air.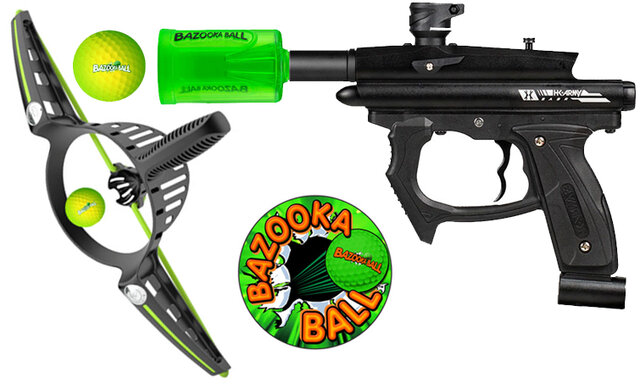 The Base price is for up to 4 hours. Each additional hour is $30.00 per hour. Delivery fees may apply. See our FAQ page for more information. Your delivery fee will be calculated during the reservation or quote process.

This fun inflatable shooting gallery is 18 feet deep by 12 feet wide by 11 feet hight. It requires a space that is 25 feet deep by 14 feet wide by 12 feet high. A 15amp circuit with nothing running on it is required to be located within 75 feet of the set up location.

This inflatable can be set up on grass, a drive way, school black top, or inside a gym. A regular 15 amp circuit is equired with nothing else running on it. Normally, your back yard outlet will work fine! The bounce house must be plugged into the power source at all times during operation. For instances where power is not available, we have generators available for rental.

Park & Street Set up: Set up in a park requires permission from the park. A copy of the permit that shows approval of the bounce house needs to be provided at the time of reservation. Set up on a street requires a permit from the city and for the street to be completely shut down with city provided barricades. No cars can move within the set up area the lengh of time the bounce house is set up.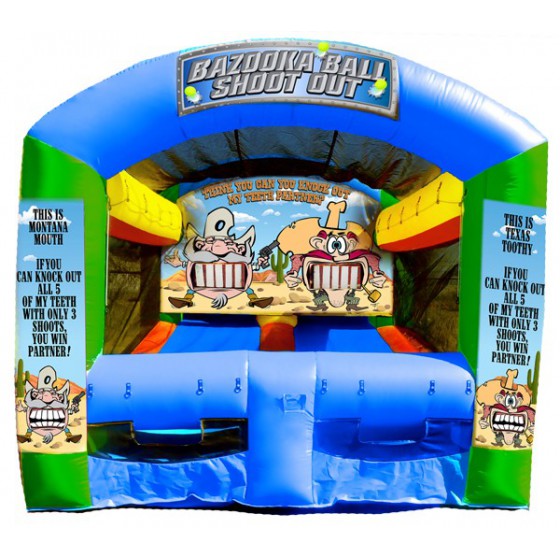 How to Play:
Two players compete to shoot down the clowns teeth. The player to knock over the most teeth wins.
The operator is responsible for:
Providing instructions on use of either guns or slingshots.
If using guns, filling tanks of paintball guns.
For assuring only targets are shot at.
For assuring that players are playing safely and do not remove bazooka balls, guns or sling shots from the playing area.