Roller Bowler
Description
This challenging game is sure to be a hit at your event. The challenge is to roll the ball on the track without it coming back to you - roll the ball with enough umph to get it over the hill, but not too much so that it comes back over the hill! We have two roller bowler games available. Rent both for double the fun!
Delivery fees may apply. See our FAQ page for more information. Your delivery fee will be calculated during the reservation or quote process.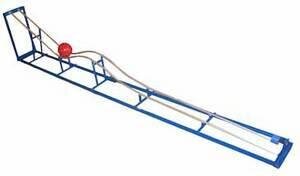 How to Play:
One player at a time stands in front of the game, rolling the ball up the track, trying to have the ball stop over the hill without coming back.
The operator is responsible for:
Providing the ball to the player and providing instructions.

For assuring that players are not rolling ball too hard, so that it comes off of track.

That players are not removing balls from the playing area.